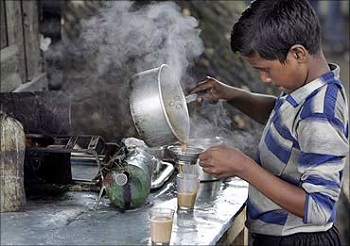 It was a cold winter morning. In a shed-like house that stood deserted beyond the borders of a noisy city, Radha whispered her morning prayers. She wondered if God ever heard her. She crawled out of a rag that they used as a blanket. Her drunk father lay unconscious in the corner, as usual. Ramu and Raju were still fast asleep under that rag, clinging to each other for some warmth.  She pulled the rag over them with pity and slinked without waking them up.
Half an hour later, she was out the door and walking towards the city that was still asleep. Her frail body confused with the cold breeze against her skin, the hunger burned her from within. She clung tight to her worn out bag that she was so lucky to find by the side of the street. As the city stirred awake, Radha reached her destination. She rang the doorbell and the other maid let her in.
And just like every other day, she went up to Chotu's bedroom and tried to wake him up. Chotu, so used to Radha Didi's alarms, put her on snooze with his innocent pleads. Meanwhile, she switched on the geezer, ironed his uniform, polished the shoes, and picked up the toys that lay on the floor. She opened his bag and put a few books. She knew them by colour. On Thursdays, his timetable had the blue, pink, yellow, green books and the book with numbers. She then sounded the final alarm, hearing which Chotu reluctantly rolled out of bed. What followed after blurred in all the hurry. Twenty minutes later, She fed Chotu, dressed him, packed the lunch and he was all ready for school.
Walking Chotu to the bus stop was her favorite part of the day. The little boy ranted on about the happenings of his life without any inhibitions. He didn't care that she couldn't understand English. He liked how she smiled and nodded to everything he said, even when he asked her what her favorite color was.
Radha had known the boy for over a year now. She was rather fond of him. She thought of him as her own younger brother, just luckier. Today, Chotu was quite excited. He opened his notebook to show her some pages of a neat hand-written essay. She looked at the fancy squiggles and smiled while nodding.
At school, the chatters fell into a hushed silence when the teacher entered the classroom. The man had a pot belly that made children giggle and a pair of spectacles that balanced on the tip of his nose. It always looked like they were going to fall off. After the habitual morning prayers and greetings that the children sang, the class for the day began.
The classroom echoed a deafening response when the teacher asked about the assignment of the previous day. The fat teacher, used to such commotion, deciphered what they said, and proceeded with the class. He called out to a boy to read out his assignment.
Chotu got up and walked with his book to the platform, secretly ecstatic that the teacher had called him out. His essay had big words he didn't understand, but he had practiced hard last night to speak them like he knew what they meant.
At home, Radha absent-mindedly tied her hair up into a knot skillfully. She wrapped her dupatta around her, so that it wouldn't interfere with her movements and restrict them. She took a deep breath and began to work.
At school, Chotu stood on the platform and took a deep breath and began to read…
"India attained independence on the 15th of August in the year 1947. It has been 67 years since, and we stand here as proud citizens of the same country that has made remarkable progress in all fields."
Radha carries a huge bundle of soiled clothes from the laundry bag to the washing machine. Carefully switching it on, she presses the buttons in the same sequence that she had been taught since day one. She lets out a sigh of relief when she hears the familiar noise of the machine jerk to life and the water falling. Even after all this time, the machine scared her a bit.
"The 7th largest, and the 2nd most populated country in the world; a home to more than 1.21 billion people on this planet has been on an incredible journey since its Day of Independence. Our forefathers' struggle for freedom was finally rewarded after almost 2 centuries. But they faced a new struggle. Such a large and populous land liberated all of a sudden, without a ruler, disorganized and chaotic, was falling apart. Soon, the great men of this new nation gathered together and took control. And the rest is history."
She goes around the house with a broom in one hand and the other hand, making way for the broom with such choreographed grace. From corner to corner, Radha gathers all the dust and dirt. She leaves behind such a clean trail, almost immediately ushering Goddess Lakshmi.
"The main reason for our country's development is education. The makers of our Constitution were well aware of the necessity of education. They made laws for the provision of education to all- irrespective of religion, caste, language, region or gender. The education of women, however, remained a challenge to our leaders for a long time. But even this has been overcome over a period of time."
She goes to the kitchen and begins with the dishes. She scrubs the oil and leftovers from the insides of the vessels and the soot from the outsides. The metal scrubber, the bar of soap and her hands have a mutual understanding that make them work harmoniously as her mind wanders off into a daydream.
"Our government concentrated on opening more schools, especially in the rural areas, where access to schooling was scarce. As of today, 98% of India's population in the rural areas have access to schools within a kilometer of every house."
The washing machine whistles a catchy tune summoning Radha. She switches it off and begins to unload. The clean clothes are then carried to the terrace, where Radha hangs each of them individually on the lines. She takes a minute off to look at the skies and bask in the glory of the sun. Her filmy moment is short lived when Chotu's mother calls out for her. " Ji Madam ji" she yells out and rushes downstairs.
"The education of girl children was encouraged by building separate toilets for girls, starting all girls' schools, residential schools and so on. With better access to schools and other benefits offered by the government, the enrollment of girls in primary schools increased from 5.4 million to 61.1 million during 1950-2005. This has been a tremendous step towards the empowerment of Indian women."
She walks into Chotu's room and begins to clear the rest of that morning's mess. She folds his blanket which had pictures of cartoon characters that she had seen him watch on TV. She dreams if her little brother back at home will ever get to sleep in such a big bed and such fancy sheets. A book catches her attention while she's arranging them on the table. She stares hard at the letters on it, almost hoping that if she stared long enough, they'd make sense. She gives up and puts it back down.
"Through various schemes like provision of midday meals, free stationery and uniform, bicycles and so on, we have succeeded in reducing the dropout rates of children in schools."
She goes to her usual corner at the back of the house with her bag and opens a small tiffin box wrapped in newspaper. The contents of that box brought no emotion on the girl's face. She simply stared ahead and chewed the pieces of dry roti.
"Government programs like Sarva Shiksha Abhiyan, Kasturba Gandhi Balika Vidyalayas, National Program for Education of Girls at Elementary Level, Mahila Samakhya and others further propagated the provision of education to girls all over India. Over the years, changes were made in the policies and frameworks. And with the introduction of Constitutional Amendments, provision of education was further stressed. The 86th Constitutional Amendment Act of 2002 has made elementary education a Fundamental Right for children between the age of 6-14 years by providing that "the State shall provide free and compulsory education to all children of the age of six to fourteen years in such manner as the State may, by law, determine". With such commitment shown by our government, we are destined to achieve great things."
She washes her hand and puts the milk on the stove to boil as per the cook's orders. She was far too young and inexperienced to cook for the whole family. So Chotu's mother had ordered the cook to teach her everything she needed to know about cooking. She begins cutting vegetables and soon forgets about the milk on the stove. A while later, the milk boils and foams and spills all over the stove. The cook lets out a scream before running towards the stove and turning off the gas. She whacks Radha on the head for her carelessness. Radha apologetically puts her head down and bites her lips to hold back the tears.
"We will achieve far greater things in the coming century with women who are equally educated as men. We have already seen the rise of women in various fields."
She brings the clothes down from the terrace to the ironing room and begins to iron the clothes carefully. The last time she burnt Madamji's saree, her pay was reduced. She couldn't afford to lose the money today. There was nothing to eat at home and she had to buy vegetables or anything else that she could afford on her way back home.
"Indira Gandhi, the first woman prime minister of India; Pratibha Patil, the first woman president of India; Kalpana Chawla and Sunitha Williams, who went to Space; Sania Mirza, Saina Nehwal and Mary Kom in sports; not to mention Aishwarya Rai, Deepika Padukone, Kareena Kapoor, Priyanka Chopra and others who have made Bollywood famous worldwide. Kiran Bedi, Sudha Murthy, Mamta Banerjee, Nirupama Rao, Barkha Dutt, Chitra Ramakrishna, Arundathi Roy and so many many more!"
She silently folds the clothes and separates them according to their owners. She goes to each room and places their respective bundles of clean, ironed clothes on the bed.
"These women along with our mothers and sisters are the pride of India! I am proud to be an Indian. Jai Hind."
She looks around to make sure she completed all her responsibilities and works. She goes and stands in the living room near Madamji who is busy speaking to her friend on the phone. Madamji notices her and covers the speaker with her hand and asks her, "Sab kaam theek thaak se kiya?" To which she humbly replies, "Ji Madamji."
Chotu paused for a final breath and said, "Thank you".
The class burst into a thunderous applause.
Madamji grabbed her wallet and took out some change and handed it over to Radha, while still talking over the phone. Radha looked at the hundred and fifty rupees in her hand and smiled. She whispered, "Thank you Madamji" and slowly walked away receiving no reply.
Abhijeet Pandey